Experience Venice Photo Tour (Oct 4-7, 2018)
Join us on a magical three day photo tour to explore the wonders of historical Venice.
During the three days of this photo tour you will shoot sunrise at San Marco, capture sunset and the blue hour on the Grand Canal from the famous Ponte dell'Accademia Bridge, wander the brightly coloured canals and piazzas on the Island of Burano, find hidden churches and create a range of atmospheric after-dark images in the ancient Venetian Cálli.
We will stay in the 800 year old Pensione Guerrato, just a few meters from the majestic Grand Canal and historic Rialto Market, and just five minutes walk from the Rialto Bridge.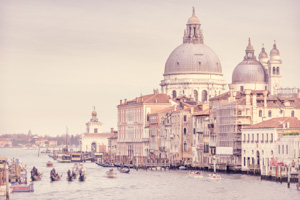 A trip to Venice wouldn't be complete without a chance to sample authentic Venetian cuisine and local wine, so on Friday evening David and Fabio will be delighted to take you to dinner at one of their favourite local restaurants.
David Nightingale runs workshops around the world, has thousands of students completing his online courses, and has published five successful photography books. Fabio Thian is a commercial photographer and a native of Venice. Together they will provide a blend of tuition, expertise and local knowledge that will present you with a unique opportunity to capture the real Venice in the best possible light.
David and Fabio have worked together (along with Bobbi Lane) to bring you the extremely popular five-day Venice Carnival Photo Tour which is now in its 7th year.
Please Note: There are just 10 places available on this tour!
Take a look at the following gallery for some examples of the kind of images you will be able to shoot during this photo tour (click on any of the images to see a larger version). David also posted a summary of our 2016 trip here.
Thursday 4th October (evening)
Arrival at the Pensione Guerrato: a small hotel, with a warm and friendly atmosphere, located within the heart of Venice, just a short walk from the Rialto Bridge, St. Mark's Square, and the Grand Canal.
Following an early breakfast will have our first briefing of the tour. This will be followed by a trip to Burano, often referred to as the 'colourful' island. Burano is situated 7km from Venice, a 40 minute trip by vaporetto and is well known for its lacework and small, brightly-painted houses. During this session we will concentrate on shooting the island's architecture and its inhabitants, paying particular attention to the skills you need to capture the essence of your trip to Venice (including lens choice, composition, depth of field, exposure, and so on).

During the afternoon we will shoot from the Ponte dell'Accademia bridge, a vantage point that will allow us to capture one of Venice's most iconic views – the Santa Maria della Salute church at the mouth of the Grand Canal – after which we will shoot the sunset from San Georgio Island.
We will meet for a group dinner at 9pm.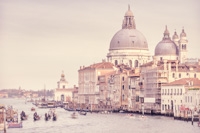 On Saturday morning we will be shooting at Rialto market, one of the busiest and most exciting in Italy. During this session we will concentrate on developing your street photography and portraiture skills, in terms of working on both the technical and social aspects of this form of photography: which lenses and settings work best for portraits; how to approach and direct people; how to photograph people in context, and how to make the most of the available light to create compelling and intimate portraits.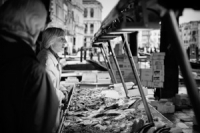 During the afternoon we will head out to San Marco, visiting a range of locations within Venice en route. We will concentrate on developing the technical, creative and narrative skills you need in order to shoot both the people and streets of Venice.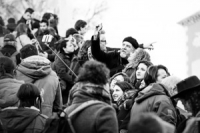 During the evening we will shoot the beauty and mystery of Venice at night, from a variety of iconic locations.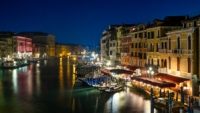 We will begin the day with a dawn shoot at St. Mark's Square after which we will return to the hotel for breakfast.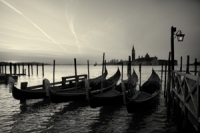 Following the dawn shoot we will be running a critique/postproduction session, during which David and Fabio will provide you with a detailed critique of your selected images and a range of postprocessing tips and techniques that will allow you to make the most of your shots from this trip.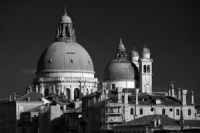 In the afternoon we will head out for our second 'street' shoot, visiting a range of locations within Venice.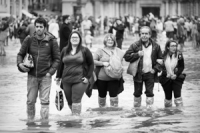 David and Fabio have worked together to provide photo tours in Venice since 2012. Libby will ensure that the event runs smoothly.
David, an internationally acclaimed, award winning photographer and instructor, is the Creative Director of Chromasia Training Limited – a photographic and post-production training company, specialising in online photography and Photoshop training, mentoring, one-to-one tuition, and the delivery of high-quality workshops around the world.
His photoblog has received numerous nominations and awards including Winner of the Most Popular Photoblog category in the 2008 Photoblog Awards and Best European Photoblog in the 2007 Photoblog Awards.
David has authored a range of photographic books including: Baby Photography Now (2007); Practical HDR: The Complete Guide to Creating High Dynamic Range Images with Your Digital SLR (2009); Extreme Exposure: Advanced Techniques for Creative Digital Photography (2010); and Mastering Exposure (2014).
You can find out more about David and Libby here.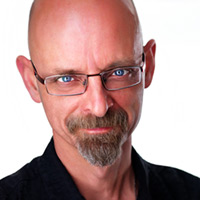 Fabio, based in Venice, has been a professional photographer for over thirty years. He began his career in Milan, working as an assistant for some of the best international fashion photographers of the eighties, before becoming a freelance photographer, working for a variety of prominent magazines and companies in the fields of both fashion and corporate advertising.
In recent years, he has developed a strong interest in landscape photography and has realised one of his long-desired ambitions: setting up a photography website and photoblog centred around his home town of Venice.
Fabio's works can be seen at:

The photo tour will provide you with a well-rounded photographic experience, with expert guidance and detailed feedback and critique of your images, enabling you to develop your skills as a photographer. You will come away with a varied portfolio of shots: including street photography and incredible shots of Venice and surrounding areas.
David and Fabio will teach you the skills you need to take your photography to the next level. They will show you how to photograph the natural and urban landscape, how to produce stunning travel images, and how to produce images that capture the heart and soul of the places you visit.
The Experience Venice Photo Tour costs €980.00. Just click the 'Pay Now' button below to pay a €350.00 deposit to reserve your place. Your balance payment will be due by August 31st, 2018.
† Please note: the cost of this photo tour is based upon single occupancy of a double room. If you would be interested in reducing the cost of the photo tour by sharing a twin room with one of your fellow students, or bringing along your partner or friend, please get in touch for further details.
If you have any questions about our Experience Venice Photo Tour please contact Libby (libby@chromasia.com) for further details or message us below.
At Chromasia we take your privacy seriously and will only use your personal information to provide the products, services and information you have requested from us. We will not share your details with any other companies or third parties. Please see our Privacy Policy for further information.