About me / Background info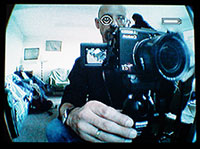 I live in either Blackpool (a seaside town in the north-west of England) or a small village about 20km south of Veliko Tarnovo in Bulgaria, with my wife and seven of our children: Antigone, Tabitha, Finley, Harmony, Rhowan, Camilla, and Amirah. Finley and I are seriously outnumbered ;-)
Though I've been interested in photography for over twenty years it was only when I started posting images on the internet that I really began to take it seriously. It all started in July 2003 when I began to use some of my photographs to accompany the entries in a static weblog; a little later I set up a separate photoblog using Movable Type, which, on February 5th 2004, became chromasia. Since then I've had a number of commissions, licensed images to companies in Brazil, Holland, Romania, the UK and the US, have photographed a handful of weddings with John Washington, and have sold quite a number of prints. In the middle of all this (June 2005) I recieved a major commission from the Arts Council England concerning the Catalyst Conference which took place in Manchester and Liverpool in September 2005. At this point my wife and I decided to register chromasia as a limited company (there's a bit more information about our company on this page).
Up until January 2007 chromasia was a part-time concern, fitted in around me being a lecturer in Higher Education (lecturing in psychology at the University of Bolton), but since then Libby and I have been running chromasia full-time.
In terms of the kinds of photography you'll find on chromasia: I did think that at some point I'd settle down to either a particular style or subject matter, but as you'll see if you look through my images, it's all a bit eclectic: the landscape around Blackpool, shots of my children and their friends, long exposure night shots, submissions to the Photo Friday challenges, and so on. I guess I should also add that chromasia is very much a work in progress; i.e. it's not a gallery of exclusively great shots. Some work, some don't … that's just how it goes.
Oh, and in case you're wondering, the image that accompanies this section is selected randomly from some of the images I have in my self-portrait category. If you'd like to see more of them, just click on the image and it will take you to the category page.
Other than that, I'm not sure what else to tell you, but if you do have any questions .
equipment
The very first image on chromasia was taken a long time ago on a Nikon F4 and it's the only analogue shot on the entire site. Early shots were taken with either a FujiFilm FinePix 40i, a Canon Powershot G5, or a Canon 20D, while the current material was shot with a Canon 5D Mark II or 1Ds Mark II and a variety of lenses. Have a look further down this page (in the right-hand sidebar) for a full list of my equipment.
links
I take part in the Photo Friday challenges (and have been awarded noteworthies for some of them). Chromasia is listed at photoblogs.org (and my favourites are listed here).
When I get around to it I'll add a list of some of my favourite sites to this page.
nominations and awards
featured elsewhere
I was interviewed by Flush the Fashion.
I was interviewed by PhotoNetCast.com.
I was a guest blogger on Brian Matiash's blog.
I was a guest blogger on Scott Kelby's Photoshop Insider.
I was interviewed by Michael Zang of petapixel.com.
We were interviewed by Scott Anderson from foliopodcast.com. You can listen to the interview here:
Chromasia was featured on Click, the BBCs "flagship technology programme".
We were featured in the February edition of Digital Camera (2008).
We were featured in the December edition of Digital SLR User (2007).
We were featured in the June edition of Digital SLR User (2007).
There's nothing on was included in issue ten of JPG magazine.
We were featured in episode 2 of Granada Telivision's Go North West
We provided the cover image and were featured in the portfolio section of the April edition of Digital Photo Pro (2007).
In October, 2006 the Financial Times reported that chromasia was the 6th most influential UK blog.
We were featured in the July 2006 issue of Arte (number 395), an Italian arts magazine, in an article entitled 'Fotografia, il futuro è nella blogosfera'.
We were featured in issue 16 of The North West Enquirer in August 2006. The Enquirer was, until its demise in late 2006, the regional newspaper for the north-west of England.
We were featured in the August 11th, 2006 edition of the Metro newspaper (UK) and online here.
We were TIME magazine's coolest photography website in 2005.
We were interviewed by the BBC.
Photoblog of the week at Digital Photography Blog.
We contributed to issue 1 of Melange Magazine.
We were mentioned in issue 96 of WebDesigner (a UK magazine).
We have contributed to File magazine.
We were featured by Coudal Partners' Depth of Field.
We were featured in an article on photoblogging in the January 2005 issue of Shutterbug.
We were featured in another article on photoblogging in Issue 1, 2005, of Foto Idee (a Belgian photography magazine).
We were mentioned in issue No. 34, February 2005, of Fotografia Digitale Facile (an Italian photography magazine).
We were mentioned in the Times2 section of the Times Online.
We were interviewed by Bending Light Magazine.
We were featured in Il Fotografo, August 2004 (an Italian photography magazine).
All of which is really rewarding :-)