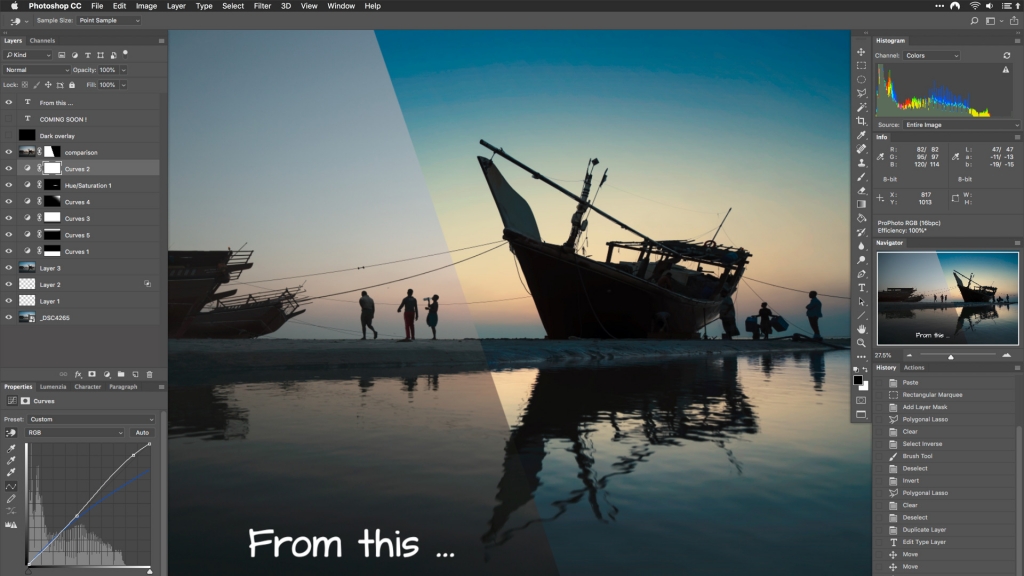 Here's what you need to do ...
As soon as you sign up for The Photoshop Masterclass we will send you an invite to the Dropbox folder we'll be using to share your images and notes (please note, we'll use the same email address as you use for your PayPal account, so if you'd rather we contact you using a different email address just let us know).
Once you receive the invite we would like you to add your images and notes to the Dropbox folder, bearing in mind the following …
First …
Please create a new folder in the shared Dropbox folder with your name as the title, into which you can then place your image and notes.


YOUR IMAGE(S)
If you haven't edited your image yet, please upload it as a RAW file (ideal), TIFF (a good option) or JPEG (not ideal).
If you have already begun editing your image in Photoshop please submit your original image (RAW, TIFF etc) and your edited version as a Photoshop (.psd) file, including any adjustment layers you have added.
Please note: If you edit your image in Photoshop, but then save it back to your Lightroom catalogue, you'll need to save a copy from within Photoshop rather than exporting it from Lightroom. The former will retain any adjustment layers you have added whereas the latter will create a flattened version.
If have you have any questions about how to upload your images please get in touch.

YOUR NOTES
The notes you submit with your image should outline your questions/thoughts regarding your image. For example, you may have an issue with your image that you haven't been able resolve, you may be unsure of the best approach to take, or you may need help with a specific tool or, technique. Just let us know, and we'll cover your points in our critique/discussion of your image.
Please upload your notes as either a plain text file, PDF or Word document.


Before the event
A day or two before your scheduled masterclass you'll receive an email with the URL for the meeting. A few minutes before the meeting starts, click the link and you'll be prompted to download a small plugin that will enable you to join and view your masterclass.


During the Masterclass
During each three hour masterclass we'll devote approximately 20 minutes to each image. You'll be able to ask questions and discuss your own image, and will also be able to participate in the group discussions.
We strongly recommend that you wear headphones during the meeting to prevent audio feedback between your computer's microphone and speakers.


After the Event
Once the masterclass has finished you'll be able to copy and save your edited image, and a few hours later the recording of the event will be sent to you via WeTransfer (you'll receive a URL to download a zipped version of an .mp4 file, approximately 300MB to 500MB).


Hopefully the above all made sense, but if you do have any questions please email David and he'll get back to you asap.