Experience Bulgaria Photo Tour (Aug. 4-11, 2018)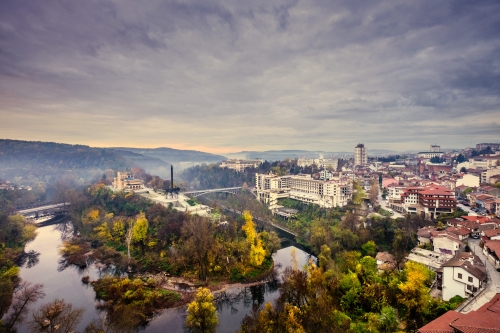 We invite you to join us for a week of amazing photographic opportunities in the heart of Bulgaria.
We will be staying in the beautiful and historic capital of the Second Bulgarian Empire, Veliko Turnovo, also known as 'The City Of The Tsars'.
Built on the banks of the River Yantra, the breathtaking mix of new and old buildings cascade down the hillside in a riot of styles and colours, reflecting the city's dramatic and ancient history.
Veliko Turnovo is home to two universities (although they will be on summer vacation during our visit), has a vibrant arts and crafts community, several museums and galleries, and countless bars and restaurants.
The Experience Bulgaria Photo Tour will provide you with a well-rounded photographic experience, with expert guidance and detailed feedback and critique of your images, enabling you to develop your skills as a photographer. You will come away with a varied portfolio of shots: from street photography and incredible shots of Veliko Turnovo and surrounding areas, to dramatic and compelling portraits of the local people.
Libby and David will teach you the skills you need to take your travel photography to the next level. They will show you how to photograph the natural and urban landscape, how to produce stunning street portraits, and how to combine the two to produce compelling stories that capture the heart and soul of the places you visit.
Please Note: There are just 8 places available on this tour!
The following gallery contains a small selection of some of our favourite images from our recent trips to Bulgaria.
On our first evening we will meet at the hotel for an overview of the week's activities before taking a stroll along Gurko Street to the restaurant for our first meal together. It is worth bringing your camera along – this 500 year old, winding cobbled street is a great introduction to the older part of the city and has unexpected views over the imposing Assens Monument (also known as the four horsemen, as it features four historic tsars on horseback).
We will dedicate a day to street and architectural photography. The older part of the city has fine examples of buildings from Ottoman Rule (1300s–1878) and ornate Renaissance houses; in the newer section you find a chaotic mix of public and residential buildings built in Baroque, Stalin Baroque and Modernist styles. The charm of this city is that you never know what you will find around the next corner! There are lots of places to stop for coffee/cold beer and food, and the day will end with a group meal at one of our favourite restaurants.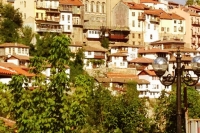 A visit to ancient Tsaravets, a medieval stronghold and the home of the Tzars of the Second Bulgarian Empire (1185 to 1393). This is the fortress that you can see from your bedroom window at our hotel. Following this we will visit the nearby village of Arbanasi, with its fine examples of Bulgarian National Revival architecture and views over the City of Veliko Turnovo. This day will give you the opportunity to capture unique landscape and architectural images, under expert guidance.
Shipka, buzludzha and Gabrovo
We will make the dramatic and picturesque drive to the Shipka Monument (The Monument of Liberty) situated on the top of the Stara Planina Mountains. At a height of 1150m/3820′ this offers unrivalled panoramic views. The monument itself is a 31.5m (98′) high stone tower, with four floors detailing the release of Bulgaria from the Ottoman forces, and has a magnificent view from the rooftop!
Note there are a lot of steps to reach the monument – but these are wide and have rest points if you wish to take it easy.
We will then make the short journey to Buzludzha on a higher peak (1,432m, 4,698′). This stunning example of brutalist architecture was built by the Bulgarian Communist Party. It was opened in 1981, for today's equivalent cost of $35 million, was decorated with marble and velvet, and used 35 tons of colbalt glass to create over 500m2 of mosaics. Following the fall of the communist regime the building fell into disrepair and is now officially closed to the public.
However, it is a popular destination for urbex photographers, who often find their own way into the building (at their own risk). On the outside there are many dramatic views of the building, and of the surrounding regions. Herds of wild horses are often seen in this area.
We will end this day with a meal in the city of Gabrovo on our way home, and have a little time for street photography – if you have the energy!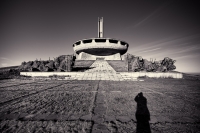 We are very excited to take you to a small village just 4km from our own home. We will visit Runya Lodge, a traditional Bulgarian village house, registered guesthouse and home to our good friends Andy and Petia.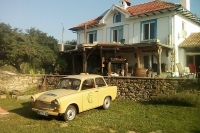 We have arranged a performance of traditional Bulgarian Dance from the dancers of our own Village, Ganchovets. They will be delighted if you join in – and will pose for photographs. This is a unique opportunity to capture portraits in national dress.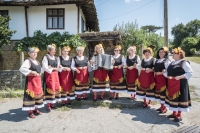 There will also be a cookery demonstration of a traditional dish by Petia, and you are welcome to practise some food photography, join in the cookery, or both!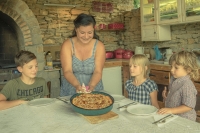 After a stroll around the village we will return to the house for a feast of traditional homemade food, with a centerpiece of a whole sheep (from the village farm) cooked in an original pesht oven (vegetarian options available), followed by a variety of Bulgarian beers, wines and rakia for you to sample and enjoy before the minibus returns you to your hotel.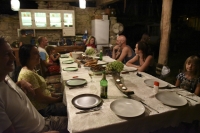 During the week we may also visit a local monastery, Bacho Kiro Caves, the vibrant fruit and vegetable market in Veliko Turnovo, and/or a range of urbex environments depending on participant interests.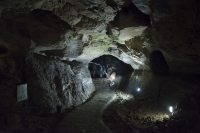 A detailed schedule will be finalised nearer the time.
Libby and David Nightingale are the husband and wife team behind Chromasia. They have won a host of awards and been featured on television, radio and in articles in many countries.
David is renowned for his street and landscape photography and his expert use of Photoshop. He is the author of five photography books and has run many workshops around the world.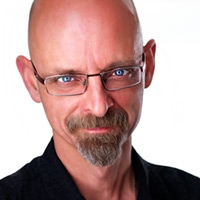 Libby Nightingale is a photography lecturer. She has a first class BA(hons) in Photography and is an Associate Member of The Royal Photographic Society. She runs workshops on historical processes, Lightroom and photography as 'Art' and is currently working on her MA in Photography at Falmouth University.
Libby and David run workshops and mentor clients, both together and individually.
The Nightingale family consider this region of Bulgaria to be their second home and are delighted to be able share it with you.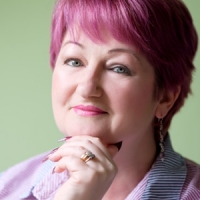 Additionally, David and Libby will be assisted by Todor Patarliev.
Todor, based in Veliko Turnovo, obtained his MA in Hotel Management in The Netherlands, and speaks perfect English, German and Bulgarian, and is the ideal host for your stay.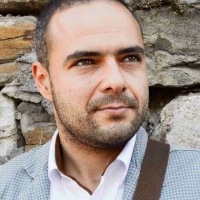 The Experience Bulgaria Photo Tour costs £1975.00. Just click the 'Pay Now' button below to pay a £500.00 deposit to reserve your place. Your balance payment will be due by July 1st, 2018.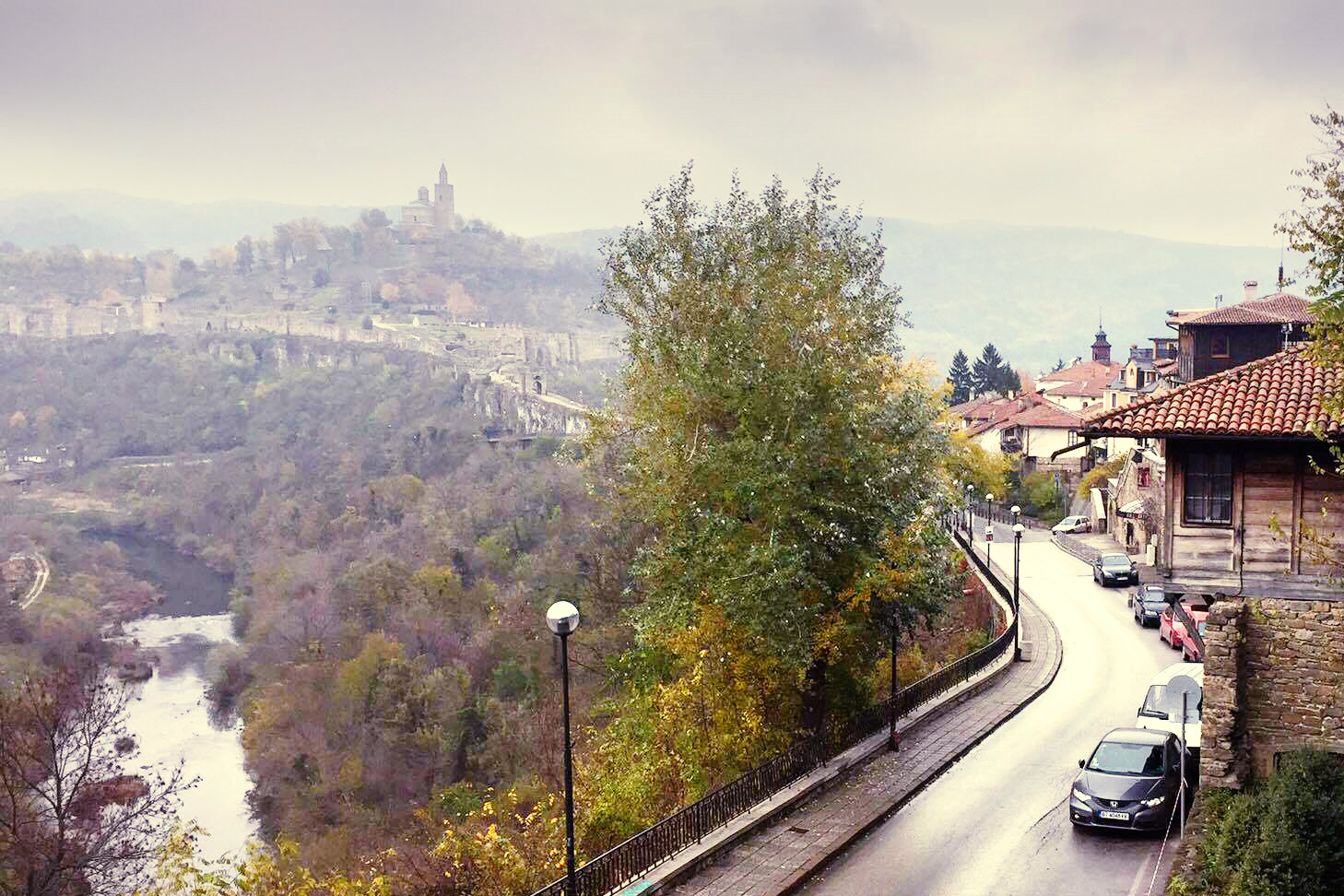 If you have any questions about our Experience Bulgaria Photo Tour please contact Libby (libby@chromasia.com) for further details or message us below.
At Chromasia we take your privacy seriously and will only use your personal information to provide the products, services and information you have requested from us. We will not share your details with any other companies or third parties. Please see our Privacy Policy for further information.