Experience Venice Photo Tour, 2016
In October of 2016 Fabio Thian and I took a small group of students to Venice for our three day Experience Venice Photo Tour. I'll be putting a gallery of Fabio's and the student's shots together at some point, but in the meanwhile here are my favourites from the trip (and a bit of background on some of them).
When we started planning this trip, somewhere around the end of 2015, I asked Fabio what the weather would be like in Venice in October. I know what it's like in February, when we run our Venice Carnival Photo Tour, but I wasn't sure what it would be like in October.
"Don't worry" said Fabio, …
"It will be fabulous! Warm &
sunny. It will be really nice!"
Well, it was a bit sunny – for a while, … on the third day, … by late afternoon – but we had torrential rain on the first, flooding on the second, and mostly overcast skies on the third. Needless to say we ended up rescheduling most of what we had planned to fit around the weather, but what initially seemed like an unwelcome meteorological disaster ended up being a fantastic opportunity to get some great and unusual shots of Venice: my favourite of which is the first one below – a shot of a pre-wedding shoot we stumbled across in San Marco as the tide began to rise.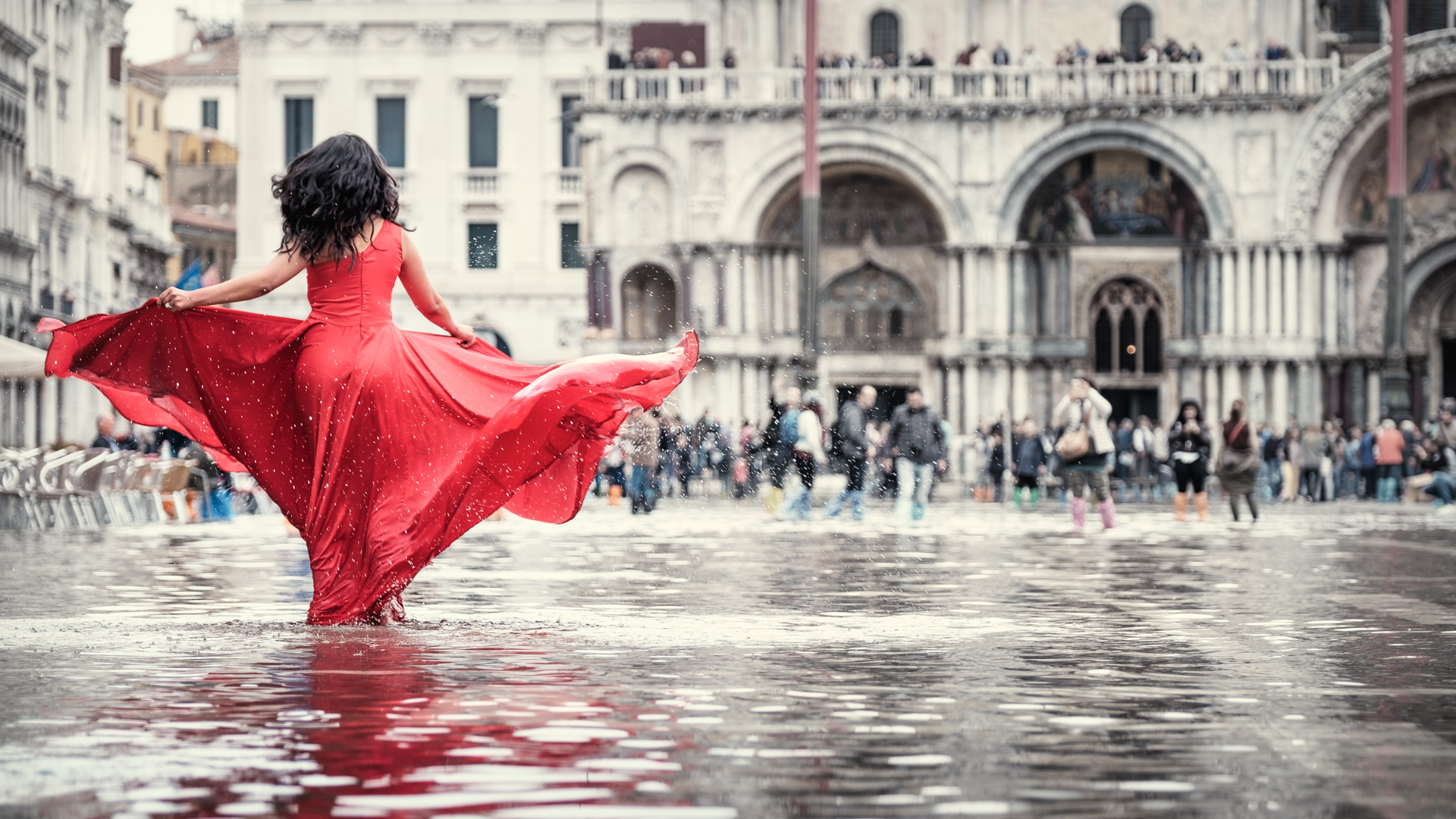 I was also really pleased with the following shot, taken just after high tide. San Marco was almost completely flooded by this point, and while the water wasn't deep, it was deep enough for us to get some unusual shots of this famous landmark.
The following is another of my favourites. It's far from a perfect shot – the depth of field is a bit too shallow, so f/4 would have been a better decision than f/2.8 – but leaving that said I really like the combination of people and expressions: the rather fed-up looking guy with the small dog in a handbag, the expression of the guy with the moustache, and the startled expression of the girl on the right. When I shot this one I had to glance round to see what I'd missed, but I didn't manage to work out what had startled her. Maybe the shark swam off before I looked.
So that was Saturday's flood, by which point we'd already survived Friday's monsoon. Armed with a bunch of umbrellas we shot around Rialto Mercato and San Marco and got a lot of cool shots of the tourists in the rain. Perfect weather would have been nice, and the rain was a challenge, but we all got some good images.
As beautifully illustrated by the chalk graffiti that I found down one of Venice's small alleyways, things don't always pan out as you hoped, so strive to make the most of what you've got. Every moment is a photographic opportunity: and while it might not be what you were expecting, there's always going to be something worth shooting.
We spent a lot of our time at relatively fixed locations – San Marco, Ponte dell'Accademia, Burano, and so on – but we also got a lot of great shots as we wandered between these different places. The next is my favourite: a shot of a ferry that was about to dock in Venice and drop off the next bunch of 4K+ tourists. I guess tourism is a necessary evil for Venice, and while the Venetians may well value the trade, the damage to the lagoon and the palazzi (palaces) caused by such large vessels is an ongoing issue.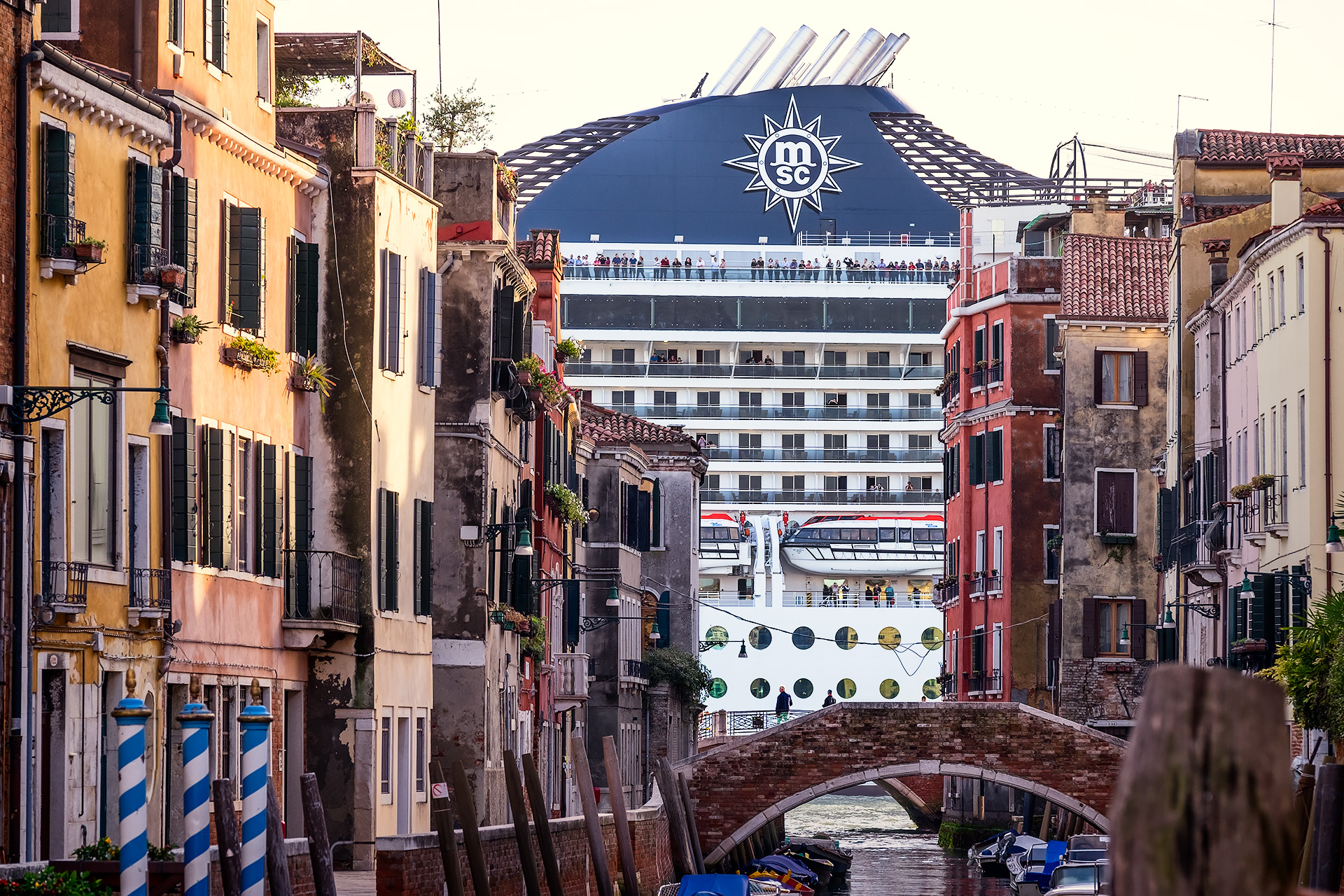 I've included another of my favourites below, taken as we walked from the hotel to catch a boat to Burano on Sunday morning. There's an interesting story behind this one. I spent ages photographing this scene, as I really wanted to include the railing in the foreground, particularly the text, but I couldn't get an angle I liked. I must have shot well over 50 frames, but in each of them something was wrong: either the verticals converged, when I concentrated on getting the right angle on the text, or the text seemed insufficiently prominent when I corrected the composition for the buildings. In the end I gave up, and then blended two frames in Photoshop to create the image you see here. I haven't published this one elsewhere but did send it to a friend as I was pleased with the result. His comment: "that railing's a bit distracting". Oh well …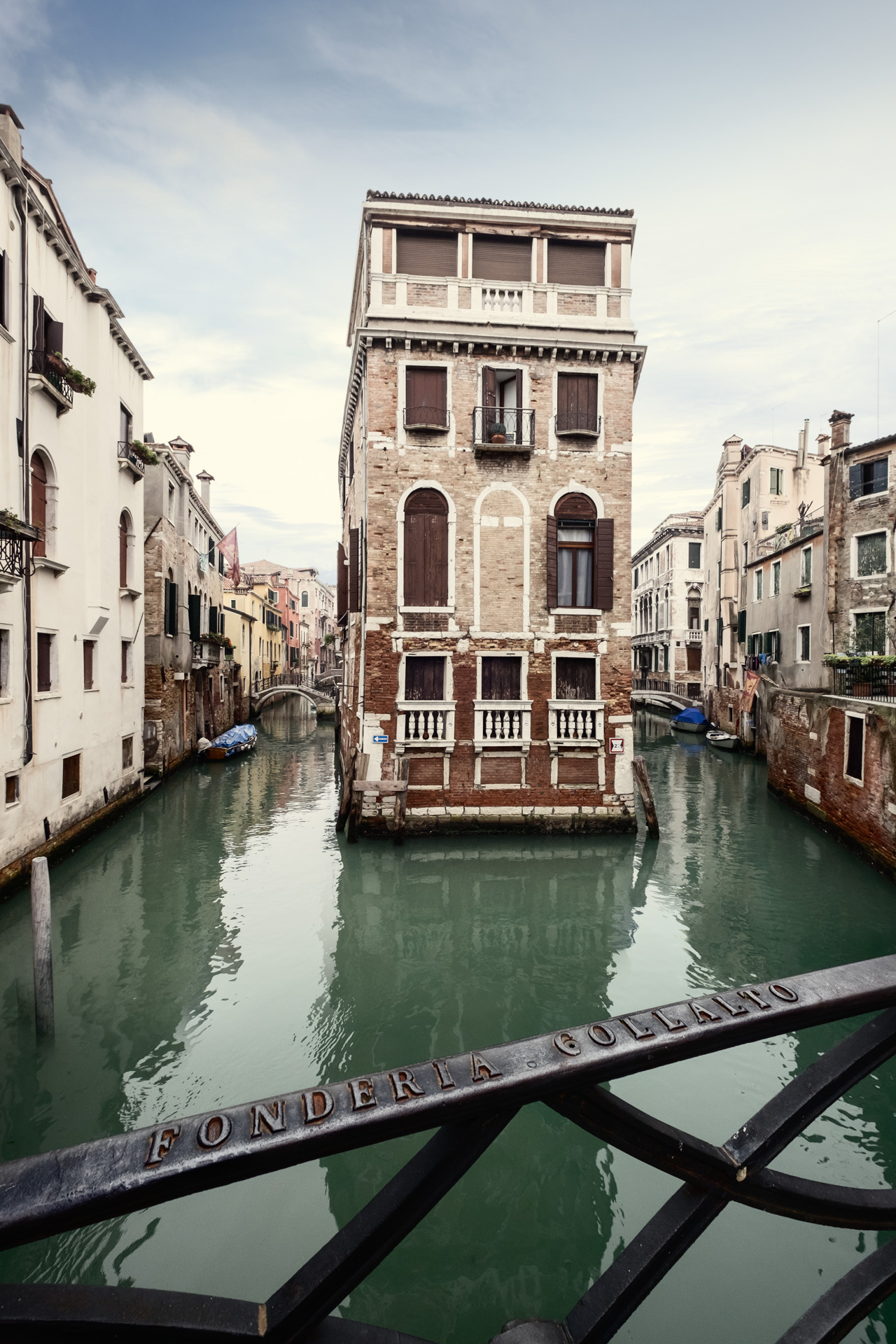 And here are a few more: a rather odd and somewhat creepy 'red-carpeted' alleyway, a trendy guy we found on Burano, and a night shot from the Rialto Bridge.
One of my favourite parts of the tour, and this is something we also do when we run our Venice Carnival Photo Tour, is our half-day trip to Burano, the 'colourful island'. It's about 40 minutes from Venice by vaporetti (a Venetian motorboat) and is well known for its lacework and small, brightly-painted houses. It's a nice change of pace from Venice itself, and a great place to slow down for some more contemplative photography. Before I show you any of those though, here's another of my favourites from the trip, shot just a few minutes before we caught the boat.
Once we got to Burano I headed to one of my favourite spots: a small bridge spanning one of the many canals, flanked by a range of colourful shops and houses. I've shot from here quite a few times now, but this is the only time I've been able to shoot both sides of the canal at once: on sunnier days either one side or the other is too heavily shaded. It's a shame there weren't a few wispy clouds in the sky, but I guess you can't have everything.
And that was much the same problem I had with the next shot: a composition I really liked, but a completely flat sky. In this case I dropped in a sky from another image. This isn't something I do very often – in fact this is the first time I've added such a vibrant sky to an image – but I couldn't create a version that I liked anywhere near as much as the comp'ed version.
As I mentioned above, Burano is know as the colourful island, and as you wander around it's easy to see why.
My last shot from the trip, included below, was taken on the way back from Burano. The sky was still flat, the horizon was fading into the mist, but there was still plenty to shoot along the way.
So, that's about it for our 2016 Experience Venice Photo Tour. I may have a few more shots to process, and I have a handful I haven't included here, but I think I've included my best and favourite shots from this year's photo tour.
Experience Venice Photo Tour, 2018