Venice Carnival Photo Tour (Feb 6-11, 2018)
Join us in Venice to capture the colour and pageantry of Carnevale, during our five-day, six-night Venice Carnival Photo Tour!
Carnevale, in beautiful and romantic Venice, is one of the most colourful and visually exciting festivals in the world. Dating back to the twelfth century it is characterised by the elaborate masks and costumes worn by the thousands of participants who attend this annual event in the days leading up to Shrove Tuesday.
In February 2018, Fujifilm X-Photographers Bobbi Lane and David Nightingale, assisted by Venice-based photographer Fabio Thian, will be running their seventh Venice Carnival Photo Tour. This is an incredible opportunity to photograph a truly unique event, with three respected and dedicated photography instructors who will provide you with a wealth of individual instruction and attention during this visually stunning event.
Bobbi Lane, a commercial and editorial photographer, and highly experienced instructor, will teach you the skills you need to shoot a range of stunning portraits. David Nightingale will teach you how to shoot breathtaking images of this fascinating location. Between them they will teach you everything you need to know to create dramatic and compelling travel images.
"The combination of Venice during Carnival and two of the best photographers and photography instructors in the business made the Venice Carnival Photo Tour one of the most amazing photographic experiences I have ever had the pleasure to participate in. David and Bobbi created a friendly, nurturing environment and complement each other very well, in terms of: style, approach and technique. I can honestly say that I came away from the photo tour a much better photographer."
The Venice Carnival Photo Tour will provide you with a well-rounded photographic experience, with expert guidance and detailed feedback and critique of your images, enabling you to develop your skills as a photographer. You will come away with a varied portfolio of shots: from street photography and incredible shots of Venice and surrounding areas, to dramatic and compelling portraits of both the local populace and our hired and costumed models.
Bobbi and David will teach you the skills you need to take your travel photography to the next level. Working with both natural light and portable flash, they will show you how to photograph the natural and urban landscape, how to produce stunning travel portraits, and how to combine the two to produce compelling stories that captures the heart and soul of the places you visit.
Please Note: There are just 12 places available on this tour!
Take a look at the following gallery for some examples of the kind of images you will be able to shoot during the photo tour, all of which were taken by the instructors and students during our previous Venice Carnival Photo Tours (click on any of the images for a full size preview).
Tuesday 6th February (Evening)
At 4.00pm we will have a welcome meeting at the Pensione Guerrato followed by our first group dinner at a local restaurant at 7.30pm. This will provide you with an opportunity to meet with David, Bobbi, Fabio and your fellow students. You will also find out more about what you will be learning and shooting during this five-day photo tour.
We begin our Venice Carnival Photo Tour with a photo-walk from Rialto Market, via the Rialto Bridge, to San Marco (St. Mark's Square) – one of Venice's most iconic and photogenic locations.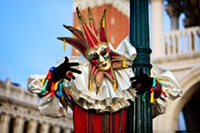 During the afternoon we will have our first model shoot, working with two local models in full Carnival costume. During this session we will be concentrating on developing your portrait skills: working with available light and reflectors; directing the models; and capturing the elegance and splendour of the Carnival costumes.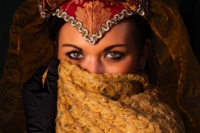 Burano, often referred to as the 'colourful' island, is 7km from Venice, a 40 minute trip by vaporetti (a Venetian motorboat) and is well known for its lacework and small, brightly-painted houses. During this session we will concentrate on shooting the island's architecture and its inhabitants, paying particular attention to the skills you need to capture the essence of your trip to Venice. This will include lens choice, composition, depth of field, exposure, and so on.
During our second model shoot we will consolidate and further develop your portrait shooting skills by concentrating on producing a range of environmental portraits. We will shoot both models in a variety of locations (using both available light and portable flash) to produce images that capture the full flavour of the Carnival.
In the evening we will be running the first critique/review session, during which David and Bobbi will provide a detailed and constructive critique of your images from the previous day's shoots.
On Friday morning we will take a trip to the islands of Murano, known worldwide for their amazing glassware. We have access to a working glass factory where you will have the unique experience of photographing master craftsmen in a working environment: pulling molten glass out of the furnaces, then forming and blowing them into their final shapes.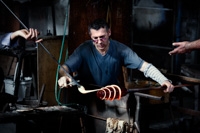 During the afternoon (weather permitting) we will take a one to one and a half hour gondola tour, where you can join Bobbi, Dave and Fabio for a leisurely cruise around the waterways of Venice.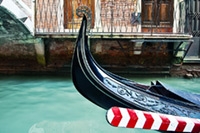 For the first few days of the photo tour we concentrate on developing your technical, aesthetic, and creative skills. Over the weekend we will guide you in putting these skills into practice. We will spend both days photographing in a variety of iconic locations,
We will begin the weekend with a dawn shoot at St. Mark's Square.including San Marco, and will concentrate on producing images that capture the heart and soul of this event.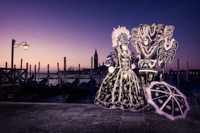 After lunch we will shoot the Grand Canal from the Ponte dell'Accademia bridge then head down to Salute, to shoot the Santa Maria della Salute church at sunset.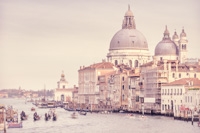 In the evening we will head back to San Marco for the one of the busiest and most exciting nights of the Venice Carnival. We will begin shooting in the late evening light, working with both available light and portable flash.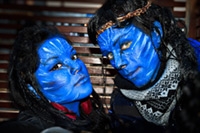 On Sunday morning we will be running our final critique/review session, during which David and Bobbi will provide you with a detailed critique of your selected images from the previous two days.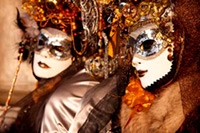 In the afternoon there will be an optional postproduction workshop run by David. He will show you how to use a variety of tools and techniques to really make the most of your images from this trip.
We will conclude the photo tour with a farewell dinner at a local restaurant at around 8.30pm.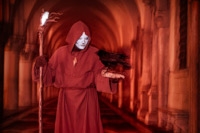 David Nightingale and Bobbi Lane, who have worked together to provide photo tours to Oman, Istanbul and Venice, will be running the Venice Carnival Photo Tour. They will be assisted by Fabio Thian, and Libby Nightingale will ensure that the event runs smoothly.
David Nightingale, an internationally acclaimed, award winning photographer and instructor, is the Creative Director of Chromasia Training Limited – a photographic and post-production training company, specialising in online photography and Photoshop training, mentoring, one-to-one tuition, and the delivery of high-quality workshops around the world.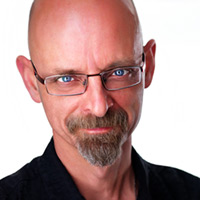 His photoblog has received numerous nominations and awards including Winner of the Most Popular Photoblog category in the 2008 Photoblog Awards and Best European Photoblog in the 2007 Photoblog Awards.
David has also authored four books: Baby Photography Now (2007); Practical HDR (2009); Extreme Exposure: Advanced Techniques for Creative Digital Photography (2010); and Mastering Exposure (2014).
David is also an official Fujifilm X-Photographer.
Bobbi Lane is a commercial photographer specializing in creative portraits on location and in studio. Bobbi's multi-faceted approach to photography incorporates over 30 years of technical experience with innovative artistic interpretation. She shoots primarily people for editorial, corporate, and advertising accounts as well as photographing "real people" and travel for stock.
As a dedicated photo educator, she brings insight and enthusiasm to her fun-filled workshops. She's been named as one of the Top Workshop Instructors by Photo District News was honored with a Special Recognition Award for Education from Advertising Photographers of America.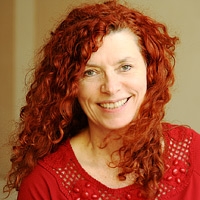 Additionally, David and Bobbi will be assisted by Fabio Thian.
Fabio, based in Venice, has been a professional photographer for over thirty years. He began his career in Milan, working as an assistant for some of the best international fashion photographers of the eighties, before becoming a freelance photographer, working for a variety of prominent magazines and companies in the fields of both fashion and corporate advertising.
In recent years, he has developed a strong interest in landscape photography and has realised one of his long-desired ambitions: setting up a photography website and photoblog centred around his home town of Venice.
Fabio's works can be seen at:
The Venice Carnival Photo Tour costs €2,795.00. Just click the 'Pay Now' button below to pay a €500.00 deposit to reserve your place. Your balance payment will be due by January 1st, 2018.
† Please note: the cost of this photo tour is based upon single occupancy of a double room. If you would be interested in reducing the cost of the photo tour by sharing a twin room with one of your fellow students, or bringing along your partner or friend, please get in touch for further details.
If you have any questions about our Venice Carnival Photo Tour please contact Libby (libby@chromasia.com) for further details or message us below.