This is where we are now, and this is how we got here …
Chromasia was born on 29th July 2003, as a relatively straightforward photoblog run by Movable Type v2.6. The design was inspired by chromogenic.net (a now defunct photoblog) and had no purpose beyond sharing my images to the newly established photoblogging community and anyone else who stumbled across it.
The design was tweaked over the coming years – different styles, bigger images (the very first image was only 450px x 600px), added functionality, and so on – but remained much the same up until it was mothballed as part of the current redesign.
You can view all 2458 entries of the original photoblog here.
In 2007 we began offering Photoshop tutorials so added a section of the website to describe and deliver them. The photoblog stayed much the same, though again there were a few minor tweaks.
By this point we were using Movable Type v3.33 to run the photoblog and new pages.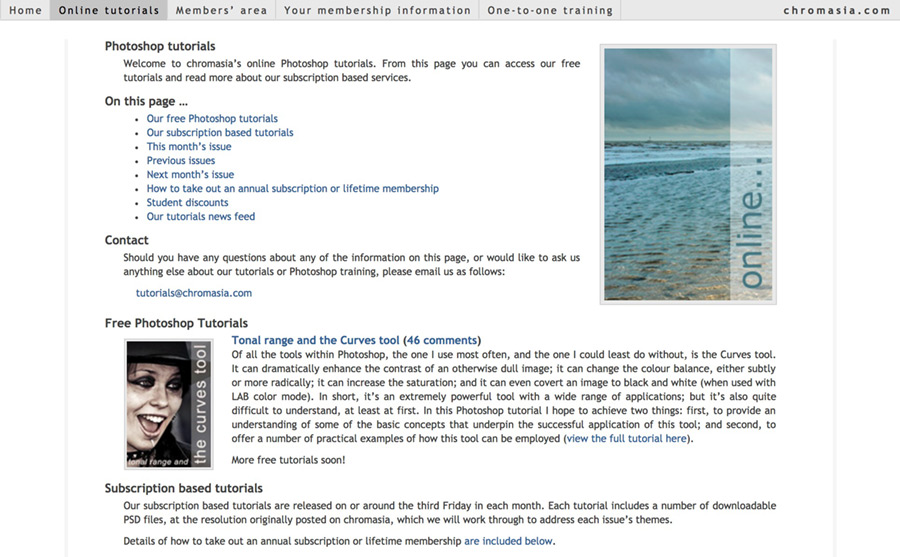 2011 saw a major overhaul of our training pages, but – and with the benefit of hindsight this was probably the stupidest development decision I have ever made – we stuck with Movable Type v3.33 as most of the templates I'd written over the years were (wholly or partially) incompatible with version 4.
Version 4 offered better functionality, as have versions 5 and 6, but we stuck with v3 and decided to work around its limitations.
This was a stupid decision in 2011, increasingly stupid in 2012 through 2016, and positively ludicrous by 2017 as it made it impossible to deliver anything other than basic content, at least not without a great deal of effort and additional back-end coding.
So, here we are in 2017 with our fourth revision but the only true back-end development since we launched the site back in 2003.
Movable Type v3.33 served us well, but in terms of driving a decent website in 2017 – one that can deliver even a tolerably functional blog, let alone any other forms of content – it's about as much use as a chocolate teapot.
There's still work to be done on the new site: some of the functionality isn't quite there yet, the CSS for the mobile version is messed up, and I only ported one of our old blog posts in addition to the photoblog, but it's a positive step towards the future.
Hurrah for WordPress 🙂